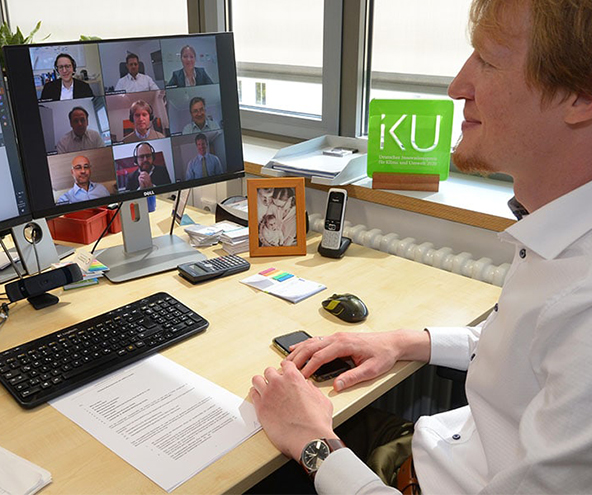 watttron receives further capital and expertise for strong growth
press release
Economy / Industry / Financing
watttron receives further capital and expertise for strong growth
Freital (Saxony), April 24th, 2020. Starting signal for further growth and expansion at watttron.
The company from Freital, Saxony, was able to win renowned partners who provide capital
and expertise: Constantia New Business, a long-term oriented
Technology investor from Austria, SKion, the investment company of the entrepreneur
Mrs. Susanne Klatten, LAUDA DR. R. WOBSER Beteiligungs – GmbH as well as the technology founder fund
Saxony is investing a sum of 3.4 million euros.
Platform technology also for other markets
"This is a very important support for the next big step," says Marcus
Stein, CEO of watttron GmbH. "With our innovative platform technology we want to
to serve customer requirements worldwide in the future. It has been our strategy from the very beginning,
to win long-term oriented investors who can give us more than growth capital.
We also profit from their experience, and thus come closer to our goal,
to establish market leadership in various industrial sectors".
The Saxon technology start-up watttron develops and produces new types of heating systems,
which are used in industrial processes for precise temperature control. The patented
Heating technology enables, among other things, the optimization of packaging in terms of material and energy use. The process allows precise temperature control even with large
to be heated and thus facilitates the processing of bio-based and recycled
materials.
Fast expansion of the company is aimed at
The current growth financing should accelerate the further development of watttron
and enable the company to supply global players. The establishment of a
Series production is also in focus. The customers of watttron already include
Companies like Procter & Gamble and Reckitt Benckiser. With the capital raised
watttron partners in new industries such as biotechnology, chemistry and 3D electronics
business relations in the American market and to strengthen them with the development of the
of the Asian markets. The investment in times of the Corona crisis and the resulting
difficult starting position for investment commitments shows the high potential of
watttron.
Photo:
Images are available for media use free of charge at the following link
(ca. 13 MB, © watttron):
https://watttron.de/wp-content/uploads/2020/04/Watttron_PressKit_Bilder.zip

BU:watttron management team, left to right: Ronald Claus von Nordheim, Michaela Wachtel, Marcus Stein, Dr. Sascha Bach


BU: watttron CEO Marcus Stein negotiating the contract with the new investors during Corona times, from upper left to lower right: Dr. Mario Englert, CFO LAUDA DR. R. WOBSER BeteiligungsGmbH, Ronald Claus von Nordheim, CPO at watttron, Michaela Wachtel, COO at watttron, Dr. Sascha Bach, CTO at watttron, Dr. Matthias Kalbus, Investment Manager at TGFS, Arno Langwieser, Investment Manager CNB, Rico Kleinhempel, Business Angel, Dr. Gunther Wobser, Managing partner at LAUDA DR. R. WOBSER Beteiligung – GmbH, Jan K. Verweyen, Investment Manager SKion


BU: Patented Matrix Heater cera2heat for heterogeneous, exactly defined contact heating of surfaces
Marketing contact:
Kathrin Eckhardt, Marketing Manager
watttron GmbH, Dresdner Straße 172c, 01705 Freital
Telephone: +49 351 271808-09, eMail: kathrin.eckhardt@watttron.com
Internet: www.watttron.com
PDF original press release: Download
About watttron
The watttron GmbH is a spin-off from the Institute for Natural Materials Technology at the TU Dresden and the Fraunhofer Institute for Processing Machines and Packaging Technology (IVV) Dresden. The company was founded by Marcus Stein (now CEO at watttron), Ronald Claus von Nordheim (CPO) and Dr. Sascha Bach (CTO) supported by Michaela Wachtel (COO) in February 2016 in Freital near Dresden. In the meantime, watttron has about 25 employees. The company develops and produces innovative heating systems that enable precise temperature control in industrial processes.
www.watttron.com
About CNB
Constantia New Business (CNB) invests as a corporate venture capital investor in technology start-ups that develop innovative products for B2B markets. The focus is on information technologies, process engineering and performance materials. CNB focuses on long-term commitment and entrepreneurial approach.
www.cnb.capital/de/home
About SKion
SKion GmbH is an entrepreneurial holding company of Mrs. Susanne Klatten with its headquarters in Bad Homburg v. d. Höhe. The portfolio includes investments in industrial companies such as ALTANA AG, SGL Carbon, Nordex and AVISTA OIL, LANDA Digital Printing and several companies in the field of water technology.
www.skion.de
About LAUDA
LAUDA is the world market leader in the field of exact temperature control. Temperature control units and heating/cooling systems from the Baden-based company are at the heart of many applications, particularly in the automotive, chemical/pharmaceutical, semiconductor and laboratory/medical technology sectors.
www.lauda.de
About the Technologiegründerfonds Sachsen
The TGFS is a venture capital fund co-financed by the European Regional Development Fund (ERDF). The fund, initiated by the Free State of Saxony, was launched in 2008 and was increased to more than 124 M€ in 2016. It provides technology-oriented founders in Saxony with equity capital for the seed and start-up phase. www.tgfs.de